Good pictures of various options for shimming the AC clutch including bread clips, zip ties, zip-ties, zipties… are zip ties the new bread clips? AC Shim Fix

Outstanding AC Bread Clip Fix photos by erikv11 and BlackThunder. Outstanding recent AC Bread Clip Fix followup by osmium, vvvolvo, jreed, C@lvin, grushton, rspi, oragex, and of course MVS Forums moderator abscate.
---
erikv11 » It looks you are putting them in the right spot but you can't just force them in and expect them to necessarily fix it, I think that may be the issue here. The purpose of the method is to force the gap to close up some, you are pushing the flat disc downward toward the body of the compressor. In your first picture, it looks like the disc is pushed all the way, i.e. it looks like there is no clutch gap at all, you have pushed the clutch gap to 0.0 mm. That's not good.
You want to insert clips or zip ties (zip ties are my preference) such that they adjust the gap becomes approximately 0.3 – 0.4 mm. That's really thin, you need a feeler gauge to know for sure.
Here is a close-up of a zip-tie installed but if you look at the clutch gap it looks like it still might be too big, maybe they need to move the zip tie a bit to push the gap a little smaller: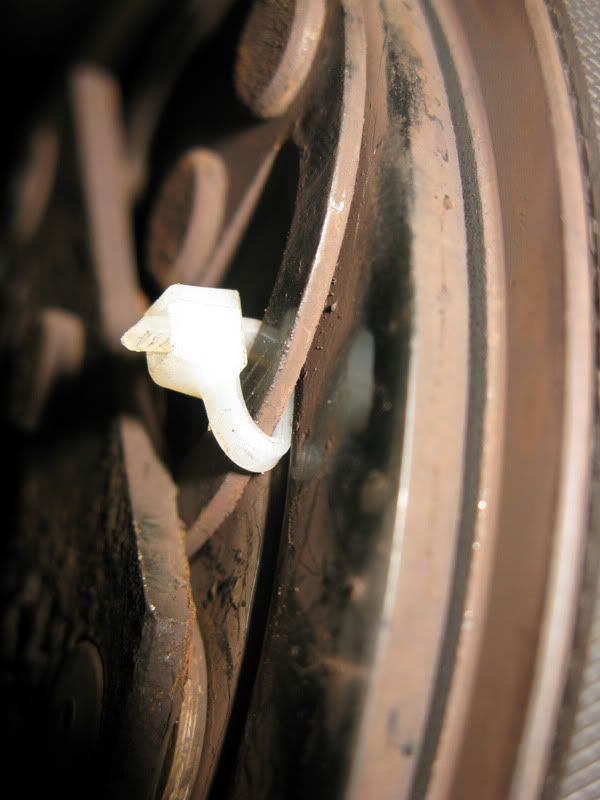 Options for shimming the AC clutch including bread clips, zip ties
vvvolvo » I performed this fix on my 2004 Volvo s60, 11 days ago. More accurately, I used the "zip tie fix." I chose the zip ties because I could just reach straight down and put the zip ties on, and I feel like the zip ties might last longer. I have small hands so I just reached down and put two zip ties on each side of the 3 rings (total of 6 zip ties). (I don't see how anyone with actual man hands could do this, though. BTW, I'm a female. I bruised the backs of mine up pretty badly, but I was determined). It works perfectly! Did a 16 hour road trip with A/C all the way!
Now, I have some questions. I have an appointment to have the clutch shims removed. My mechanic is awesome and knew all about this issue and about how to remove the shims. I did the fix myself because his next available appt was 3 weeks out. When I mentioned the fix he suggested that I should just cancel the appt, if the fix worked. His concern is that the clutch may be fused to the compressor and need to be replaced if they damage it while removing it. Should I just leave the zip ties on and skip the professional fix? How long will the zip ties last? Can it cause damage to anything other than the clutch if I leave them on?
hansenjg » Did the Bread Clips on my old 2000 C70 in 2006. Lasted the rest of its life to 2014. Last weekend did the zip tie fix on the 2003 XC70 because it had intermittent failure. Working perfectly to date and I don't have to worry about them falling out. My wife thinks I invented this! Ha Ha! Thanks guys.
lmjua » Wow! i tried the zip tie method on my 1996 850 and it really worked. Wife could not believe it. Thanks to all who contributed your wisdom and knowledge on this issue. You saved me hundreds. Here in the south, the heat and humidity is lethal. God bless and keep on posting and sharing the knowledge. Any suggestions on the odometer & speedometer not turning. I've tried replacing the odometer gears and it worked for a while but now the same problem.
Options for shimming the AC clutch including bread clips, zip ties
DID YOU KNOW?

1. The Volvo company is based in Sweden
The parent company got its start in a town called Gothenburg. This is a relatively remote village in Sweden that has become something of a legend, largely because of the existence of Volvo. Thanks to their very presence, more jobs have been created and the entire economic strength of the region has been improved. You might even go as far as saying that Volvo revitalized this area. It's definitely something that people in Sweden are proud of.

2. They also produce heavy equipment
As far as the parent company goes, it's not just automobiles that it's responsible for. While it's true that it also produces buses, it's even better known for producing heavy equipment, mainly for construction sites. This is something that most people are largely unaware of, leading them to feel somewhat surprised when they find heavy equipment with the Volvo name attached to it.
Subscribe to the MVS Newsletter
The MVS Volvo Newsletter is a once-a-month email delivered to your email. It's simple to unsubscribe at any time if you change your mind.