I'll try and purchase the tools to work efficiently and risk free. Unless your experiences say otherwise, there are four, ECU removal, camshaft locking, crank/camshaft seal tool, and electric torque impact wrench. One suggestion was to NOT buy the crankshaft counter-hold tool, but use impact wrench.
EBay shows Camshaft Locking Tool Kit that includes both cam and crank locking tools, and more: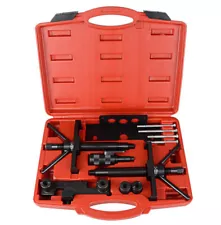 Would you recommend Harbor Freight's Bauer 8.5A 1/2 In. Heavy Duty Extreme Torque Impact Wrench -- it has good reviews?
https://www.harborfreight.com/85a-12-in ... 64120.html
Progress from last week:
After noticing oil drips under the oil pan surface and wetness along the subframe, an area below the front engine mount, last week. I decided to clean and chalk the oil pan surface to trace the source.
Here are two photos:
1) oil under the pan -- last week...
2) chalked oil pan surface showing oil path from the filter housing -- pictured this morning...