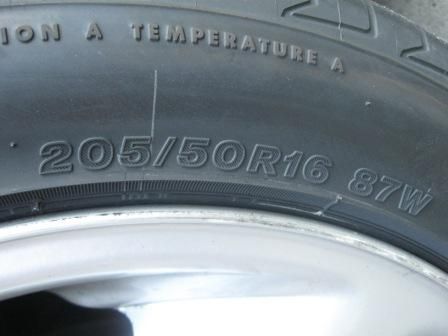 After 29k miles, and more tire rotations than any sane person would do, it was time to replace my used up set of 205/55R16 Conti DW's. So, against the recommendations of Moderators, Volvo USA, Attorneys, Preachers, the NSA, and my Mom, I decided it was time to try out a set of OEM 205/50R16's on my now certainly doomed 20 year old Columba (which is Portugese for 'Bends easier than public opinion in an election year') wheels.
I bought a set of 205/50R16 Bridgestone Potenza RE760's based on reviews and price. So far so good, as they ride much smoother than the worn out Conti's, and seem to handle fine in the dry.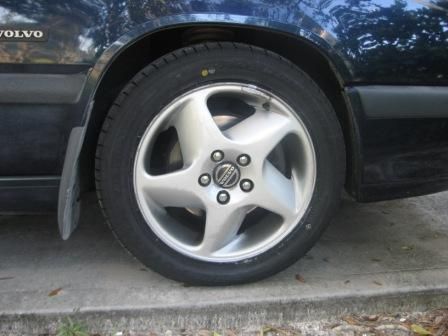 Why the change? Aside from the horrible wear marks in my poor wheel liners, a slightly inaccurate speedometer, and strange undulations during parking lot maneuvers, there weren't really any negatives to the 205/55R16 size. But, I wondered what Volvo had in mind way back in 1990-whatever when they were doing the design work. The original size was probably chosen for a good reason.
And based on my experience with Volvo to date, it seemed like they usually made good decisions, at least through the 60's and 70's, like seat belts, padded dash boards, copper-nickel brake lines that never rust, O2 sensors that reduce emissions 10x more than specified, etc, etc. So after some soul searching, I decided to take the plunge and try out the original size, deciding my results would depend on the answers to these three true/false questions:
1) Sometime after 1980, Volvo engineers became idiots
2) People drive on flat tires, and wonder why bad things happen
3) Tires have gotten better in the past 20 years
As I have addressed #1, at least from a historic basis, allow me to elaborate on #2. I have observed that, in general, very few people ever bother checking their tire pressure. Find a random person with a car more than three model years old, and see how much air is in the spare. In the past several years, I've seen numerous temporary spares partly shredded, yet safely stowed back in the trunk, implying they were probably driven on with little to no air pressure, until they essentially exploded. Say, maybe like an unnameable vehicle with tires intentionally left underinflated to soften the ride? TPMS anyone?
I also came across an interesting paper which equated the effective spring rate of a tire with the inflation pressure. Most tires did not do so well below 25 psi, so driving around on low tire pressure with low profile tires is probably hard on the both the tires and the wheels.
Helping to seal the deal - note that many low profile tires now have material added as rim protectors. It is clearly visible on the top image of the RE760. Does it help? Who knows, but I bet it doesn't hurt.
My personal experience with Cam Sensors sums it up. Given the apparent nature of Volvo engineers (e.g. 'What do you mean you expect to start the car with a failed Cam Sensor - how will we know when to fire the plugs?') compared to, say a Ford engineer (e.g. 'The cam sensor failed - let's make our best guess and fire the plugs!') I suspect the early 850 Turbo testing did not involve crashing through potholes on flat tires, because who would do that? Perhaps it should have. I suspect they naively assumed that drivers would not do silly things. They clearly never drove in Florida.
In the end, I think the answers are F, T and T. We'll see how it goes in practice. I might be in the market for replacement wheels soon, but I'll chance it in the name of experimentation!