Longtime MVS Volvo forum member 98T5 tells us how to DIY-yourself some inner and outer tie rods on a P80 Volvo. Note this is identical to P2 Volvos in concept. He shares some excellent tips and tricks.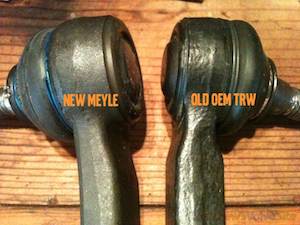 "I used the Inner Tie Rod tool, but it only worked for the passenger side since I have a bump stop on the Driver's side and the crow foot would not lock on properly. So I used my trusty Vice Grips for the DS inner tie rod end and other various things to get the job done faster. But overall this job is pretty straightforward. It took me only 3 hours and some sweat equity, but I saved $$ on parts and $$$$ on labor by ordering the parts online and doing the work myself. Just make sure you put safety first and have at least 2-3 hours on the weekend so you don't rush it. Also, use youtube as a resource if you need a tip….So here we go…I sprayed everything down with brakekleen first to make the job less filthy and so I could see what I was doing."
DIY: 1998 V70 T5 Turbo inner/outer tie rod R&R with pics
Also: this tie rod DIY.