Oh, You Mean "Reverse Intercooler Plumbing"?
Sadly, no, I'm not talking a RIP kit. Three weeks ago my ex was in my ex at a light, and the car behind her hit the back of the
Volvo V70 R
. She had our 2.5-year-old in the car, but luckily they both were fine. I always felt good about my ex driving a P2 Volvo.
Details
She had her foot off the brake during the impact, ready to move up. The intersection light was out, so there was a good deal of confusion. The impact wasn't terribly great:
no airbags in the V70 deployed
, but the R was pushed into the car in front. The radiator was crushed, however, and the car was removed from the scene on a flatbed.
The insurance agent "totalled" the car, and my ex got $11.2k for it, which is exactly $2k less than what we paid for it 26 months before. She bought a new 2012 VW Jetta Sportwagen TDI FWD manual transmission(!) (
2010 review by my fav car magazine
) two days ago, and says it has as much or more (usable) power than the R. It's the old Jetta body, internals. VW declined to make a wagon in the new body style. Black on black, not too many options. She's getting around 52 highway MPG
.
Subtly Dramatic Image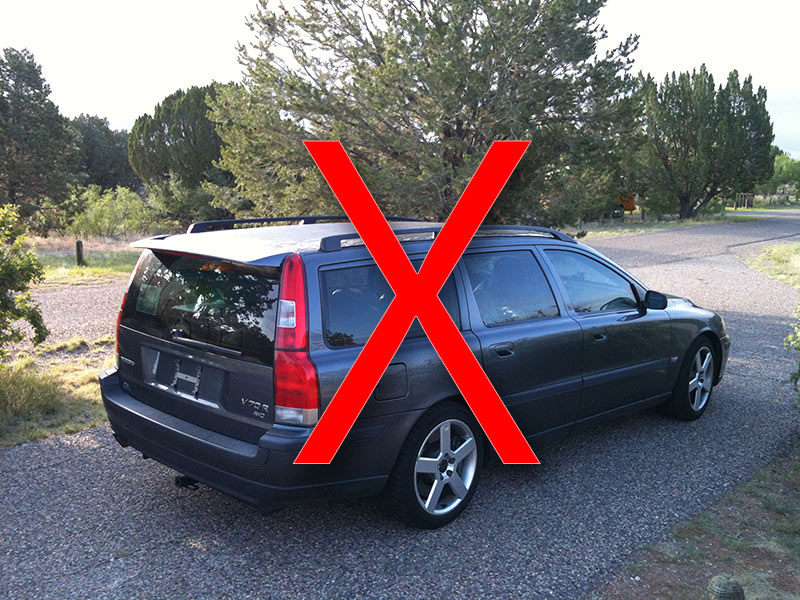 I don't know if this dramatic image I made is warranted... perhaps the car's newfound status can mean it'll still live on roads as a salvage titled car(?).
Takeaways
Now middle-aged P2 Volvos can get deemed a "total" by insurance companies without airbag deployment. It used to be that the simple deployment would send the cars to the wrecking yard, not it's not even that. Who knows, maybe this particular V70 had frame damage without SRS deployment, but I'm skeptical. Correct me if I'm wrong, Jimmy, JDS60R, or anyone closer to technical or insurance industry knowledge.
Two thousand (roughly) spent on maintenance + two thousand depreciation / 26 months = $153.85 per month ownership, not including fuel, insurance, tags. But it was due for many big-ticket items: timing belt, tires, expensive Monroe 4C shocks. Good timing.