Missed last week? SEMA 2012 Wrapup. Take the Fast Friday Poll.
Intercoolers
Two weeks back from SEMA and although last week I mentioned the
technological increase we noted at the show
, there was also quite a few new manufacturers present and exhibiting. This is somewhat surprising as finding a manufacturer to build you intercoolers, turbos, etc.. isn't exactly hard and at the same time SEMA isn't exactly inexpensive to showcase your capabilities. So I was a bit surprised in retrospect with what we saw. That being said it's a great time to talk to people who do one thing and do it really well and pick their brain for information!
The more you know
Seems there is no limit to how often I learn something new and realize how much more there is yet to learn in that subject. Take intercoolers for example, there's basically two options in the market place for most of us; either a drop in factory location replacement, or an aftermarket front mounted intercooler. Each has its benefits and determents so let's cover each briefly and then consider some of the infrequently discussed aspects of intercooler as a whole.
FMIC
Front mount intercoolers
or FMIC's are exactly what they sound like, an aftermarket intercooler that is fastened to the front of the vehicle (typically right behind the bumper or air guide) and routed with piping to the turbo outlet and to the throttle body inlet on the intake manifold. As you might guess this mounting configuration has benefit since the intercooler is not obscured by any other heat exchangers (radiator or condenser) however it does increase the total amount of plumbing length which in turn tends to increase turbo lag a bit. Additionally FMIC's tend to be wide and thick but typically shorter in height. This added thickness (upto and in some cases more than 3") can reduce efficiency at low speeds since higher airflow is required to permeate the intercooler and provide its maximum gain.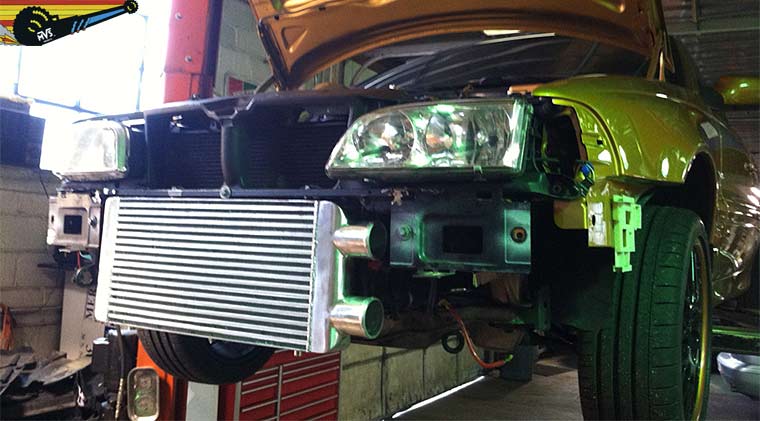 C70 has an FMIC installed. Photo courtesy Brett Borders of Volvo Specialists.
Stock mount replacement
Aftermarket intercoolers that replace the stock unit and mount in the same location do bring a great deal of simplicity to the addition of an intercooler. Since they fit in the stock location the install is typically straight forward and little to no modifications are necessary to make them fit.
Some FMIC kits are 100% bolt up but many 'ebay' kits are not
. Additionally since there is more area (width and height) in the stock mounting configuration this provides a thinner intercooler core which promotes better cooling at lower speeds. Of course being behind the condenser this can allow some heat from the A/C system to be transferred to the intercooler but in most cases this isn't as big of a concern unless your climate has considerably higher ambient temperatures.
A lot of the decision making, when it comes to choosing what intercooler is right for you, will based on how far you plan on modifying the car with respect to performance upgrades. For vehicles that will stay within the TD04 family of turbos (16T, 18T, 19T)
a stock drop in cooler may be the best option
since these turbos tend to develop higher charge temperatures quite early in the RPM band vs. a larger turbo such as a GT3071. So the benefit of lower speed cooling becomes a very desirable side effect. For those who are planning a larger build on their vehicle and are looking to turbos that may not start spooling until 3500+ rpm then the FMIC may make more sense. These larger turbos won't be spooling in the early PRM range which means by the time they are developing significant boost the vehicle is likely up to some speed already. The added total volume of plumbing with an FMIC is not as critical either since a larger turbo can fill the added volume much easier.
More Volume + Same Air = Pressure Drop
Pressure drop is exactly what it sounds like, the amount of pressure lost due to the amount of internal restriction in the intercooler. Pressure drop is a function of tube count/size and fin stack inside the intercooler. The type of internal tubing used is a factor as well with bar & plate or Delta fin being the more popular as compare to tube and fin designs although this is somewhat debated by those in the know. Look for pressure drop figures at highest effective efficiency and you'll have a good comparison to go by.
The efficiency of the intercooler is also affected by design of the end tanks, the more smooth the end tank transition typically the more laminar (non-turbulent) the air flow. If it looks clunky… it probably is.
Final thoughts
While intercooler dimension and placement is of concern it shouldn't over shadow additional considerations like pressure drop, efficiency of the intercooler as a heat exchanger, and material construction/design. There's more than a few poorly produced intercoolers our there so
do your homework and ask questions
. If a vendor can't supply the answers you might want to look elsewhere.
Want more info? Check out the intercooler tech page at
Extremeintercoolers.com
. Additional
intercooler theory and numbers
.
Robert Lucky Arnold
ARDtuning.com
~ ~ ~
[list][*]Questions, comments, arguments and freakouts accepted and encouraged. Really.

Lucky WANTS to answer your questions

.
[*]If you want to remain anonymous, email me your question or comment and I will post it as "Anonymous User".
[*]It takes Lucky and me several hours combined to bring you Fast Fridays. Your questions and comments validate FF's value.
[*]I write paragraph headlines, and sometimes article headlines. Yell at me if you find these not to your taste.
[*]Same thing with italics and

bolds

, they're all mine.
[*]Cams and turbos and MBCs and chips and... whoo![/list]
Matt