Missed last week? Spark Plugs: Copper vs Iridium vs Platinum. Take the Fast Friday Poll.
Ultraviolet Tune and the R32 Turbo kit install!
The Captain has Turned On the Seatbelt Sign
Two weeks ago today we started working with
RZ Design
on the
R32 turbo kit
they offer for 2004-2007 R models. With RZ doing the hard work of the install in the first week it left the remainder of the next week for us to complete the tuning. The turbo on this kit is capable of
over 500bhp
so reining that in to keep the engine safe was priority number one! The engine in stock form is capable of handling approx. 420 bhp before issues start to arise; typically splitting cylinder liners if there is any detonation. To help keep that at bay we used an AEM progressive
water/methanol injection system
to act as a safety net since this particular vehicle is driven in high ambient temps on the track quite regularly. While this is likely overkill for most drivers using this kit we thought it wise to give the engine every advantage given its rather rough operating conditions!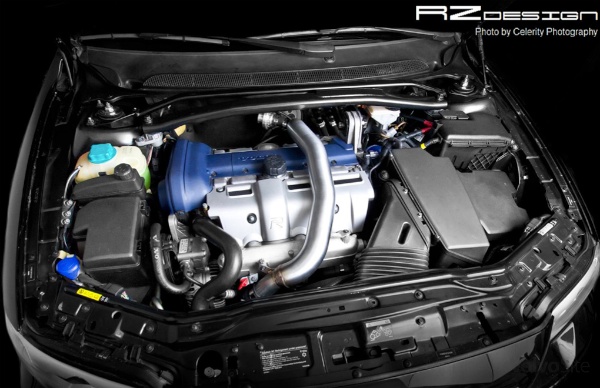 Teamwork = HP
I was fortunate enough to spend time with Rye of RZ design while the kit was being installed so I can speak a bit to the quality of the kit and its fitment. I can say I was very pleased at how well thought out and implemented the install went. One of the outstanding aspects of the kit is how tight everything fits, specifically with regard to oil/water lines. The drain line for instance is an OE drain line that was sourced to be a perfect fit and still used stock gaskets and O rings. Additionally the water lines feature all AN fittings and push lock hoses for the cleanest install you'll find, no unsightly clamps required! I particularly appreciated the V band outlet on the turbine housing and included tight radius bend so that we could simply weld this to the existing downpipe since this car had already been modified with regard to exhaust/downpipe.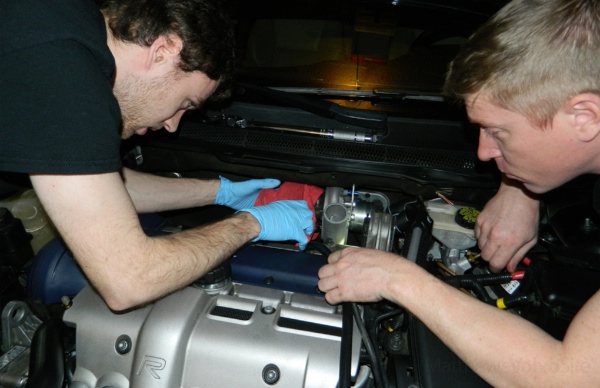 The Pieces, Ah, The Pieces
The prettiest part in the kit however has to be the stainless over the engine pipe which is not only just a looker but provides very nice geometry to clear the hood liner and manifold all the while keeping air flow laminar and smooth. The R32 turbo that was selected is in fact the Mitsubishi 20G with RZ Design 7+7 billet compressor wheel, custom
wastegate actuator
, and extended compressor inlet. Hardly the same turbo it used to be!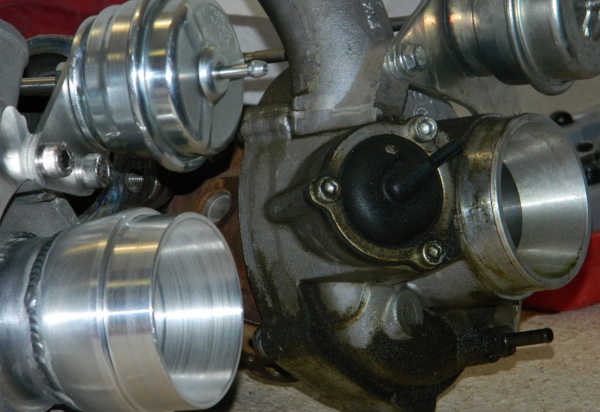 Fuel, Air, Boost
Tuning the car we started out by scaling the injectors since the 465cc/min stock greens were too small to handle this level of horsepower and 650cc/min injectors were fitted during the build. Once we had that done and confirmed proper fuel trims and fuel economy the process of tuning for performance began. We had started with the wastegate actuator set a bit tight at 7psi and even with a main boost target of 16 psi we were seeing some boost overshoot initially, so we backed the adjustment down to 4.7 psi which ended up being the sweet spot for boost control. After that we adjusted the
TCV duty map and main boost map
to give us the 18.8 psi target we were shooting for. Some further work in fueling tables and of course considerable time in the ignition tables and it was time for our first full power pull!
Bear in mind while we love performance driving there's no room in the real world for excessive speed or dangerous behavior. In all our testing we kept it within the speed limit and within safe driving practices. We'll be heading to the track or dyno shortly (or both) to get our higher speed data.
More Than 20G Pull
With that said the first 0-60 mph pull was surprising for two reasons. Firstly the turbo followed the boost curve I set amazingly close! Within 0.5 psi from 0-18.8 psi. The precision was not expected but happily enjoyed! Secondly the car was considerably quicker than I expected from my past experience with off the shelf 20G turbos, the R32 was spooling earlier and flowing more efficiently than we projected. A good thing to be sure! This coupled with the
FMIC
that the owner had installed previously provided for a very nice package to tune for. The turbo and engine simply did as it was commanded without complaint and hardly any variance. That alone makes my job quite a bit easier, although it's still somewhat of a lengthy process taking an already refined vehicle and tuning it to the limits. It's a tough job to have but somebodies got to do it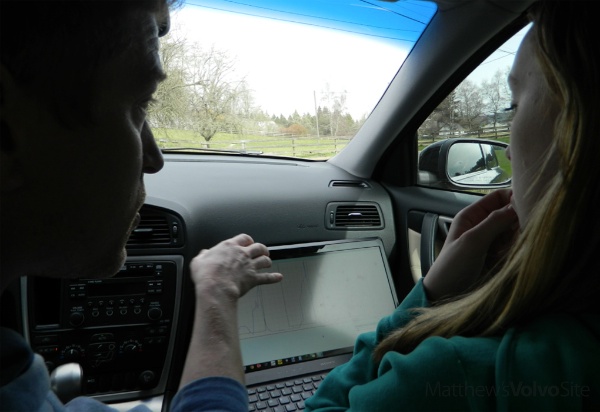 With the hard parts done we're delivering the car to the owner just about the time you read this and we'll be looking forward to the videos, pics, and feedback he has as more time is spent pushing the car to the limit before a planned build in the next year that includes block sleeves, forged connecting rods, and forged pistons that will allow us to take full advantage of what this turbo can provide.
Got questions? Post up in the comments!
Robert Lucky Arnold
ARDtuning.com
~ ~ ~
Questions, comments, arguments and freakouts accepted and encouraged. Really.

Lucky WANTS to answer your questions

.
If you want to remain anonymous, email me your question or comment and I will post it as "Anonymous User".
It takes Lucky and me several hours combined to bring you Fast Fridays. Your questions and comments validate FF's value.
I write paragraph headlines, and sometimes article headlines. Yell at me if you find these not to your taste.
Same thing with italics and

bolds

, they're all mine.
Cams and turbos and MBCs and chips and... whoo!
Matt[/size]