Here are all the Volvo Color Codes and the different models on which they were used. In this page you'll find:
How to read the color code off your Volvo's VIN plate
Where the VIN plate is located
A list of Volvo paint codes
Have time for a fun detour into some oddball Volvo paints? Check out our Cream Yellow 607 post and the other Volvo Cream Yellow paint code used on the S40/V40 twins, paint code 248.
How do you find your Volvo's color code? VIN Plate.
Product ID plate: Second column, third line down, #9 in the image below.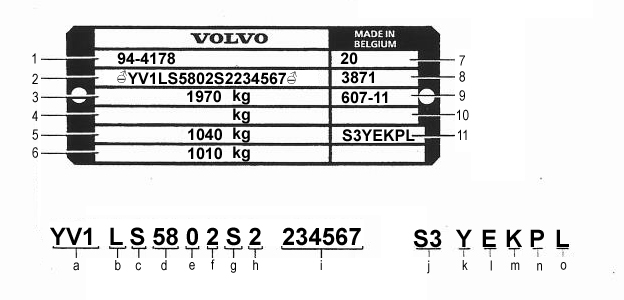 Where is the VIN Plate?
Btw, the color code on most vehicles is located next to the last line on the identification plate under your hood- usually on the front fender well, left side.
Volvo Color Paint Code List
Paint Code

Color Name

Volvo Models Used On

19
Black – (Same as 019?)
PV444/544, Amazon 1962-67, 1800S 1964, 1967–1969,
1800E 1970–1972,
1800ES 1972
20
Pearl grey
—
21
Metallic red/Wine red
—
31
Midnight blue
—
33
Riviera blue
—
42
California white/Cascade White/Ivory
Amazon 1962, 1800S 1969, 1800E 1970–1972, 1800ES 1972–1973, 140
43
Red + Grey beige
—
44
Grey beige
—
45
Midnight blue + Grey beige
—
46
Red
Amazon 1962-70, 1800S 1963–1969, 1800E 1970–1972, 1800ES 1972–1973, 140, PV544
48
Golden beige
—
49
Black + Grey beige
—
50
Grey beige + Black
—
51
Grey beige + Red
—
54
Grey beige + Midnight blue
—
56
Olive green
—
61
Green/Serpenta
—
62
Taxi yellow
—
63
Signal yellow/Kinaro
—
64
Hayanna brown
—
65
Grey beige
Amazon 1962
66
White/Ivory
—
67
Slate blue
Amazon 1962 PV544
68
Olive green
—
69
White
P1800 1961–196
70
Red
P1800 1961–1962
71
Dark gray
P1800 1961–1962
72
Fawn/Fawn brown
Amazon 1962 PV544
73
Mist green
Amazon 1962 PV544
74
Orange
—
79
Pearl white
Amazon 1963-70, 1800S 1963–1968
80
Graphite gray
Amazon 1963-66, 1800S 1963–1966
84
Desert sand/Golden yellow
Amazon 1963-65
85
Blue-green
Amazon 1964
89
Light blue/Horizon blue
Amazon 1965-66, 1800S 1965–1966
90
Dark blue
Amazon 1965-66
91
Light green
Amazon 1966-67, 1800S 1966–1968
94
Dark green
Amazon 1967-70, 1800S 1967–1969, 1800E 1970–1971
95
Light blue
Amazon 1967-68
95-1
Light blue
1800S 1967–1968, Note also:, 95-2, 95-1 Blue Tint, 95-2 Green Tint
96
Pacific blue
Amazon 1967-70 140
97
Yellow
Amazon 1968-69 1800 1969
98
Grey/Pearl gray
Amazon 1969-70, 1800S 1968–1969, 1800E 1970
99
Medium blue
1800S 1969, 1800E 1970
019
Black Stone
Most models
096
Dark Blue
240 760
100
Yellow/Safari yellow
1800S 1969, 1800E 1970–1971
101
Grey
—
102
Blue metallic/Steel blue
metallic
Amazon 123GT 1967, 1800S 1969, 1800E 1970–1971
103
Burgundy/Maroon/Wine red
—
104
Turquoise/Blue metallic
1800E 1971
105-1, 105-2
Gold Metallic
1800E 1971–1972, 1800ES 1972–1973, 140
107
Sun yellow
1800E 1972, 1800ES 1972–1973, 140
108
Sapphire blue
1800ES 1973, 140
109
Ocean blue/Ocean green
1800E 1972, 1800ES 1972, 140
110
Cypress green
1800E 1972, 1800ES 1972–1973, 140
111-1, 111-2, 111-3
Alpine blue metallic/Light blue
metallic
1800E 1972, 1800ES 1972–1973, 140
112
Taxi-rail 1016
—
113-1
Orange
1800ES 1973, 140
113-2
Orange
140
114
Dark blue
140
115-1
Sea green
1800ES 1973, 140
116-1
Yellow
140
117-1
Caribbean red/Dark red
140
118
Light green
—
119
Sahara beige/Beige metallic
—
120
Andes copper metallic/orange
metallic
—
121
Aleutian blue/Medium blue
—
122
Mojave beige/Beige
—
123
Shenandoah green/Medium
green
—
124
Volvo blue
—
125
Cimarron brown/Red
brown/Brown
—
126
Champlain blue metallic/Dark
blue metallic
—
127
Tahoe green metallic/Light green
metallic
—
128
Carlsbad yellow/Mid
yellow/Medium yellow
—
129
Cherokee red/Red
—
130
Silver metallic
240 260 740 760 940 960 850
132
Marine blue/Dark blue
—
133
Dark green
—
134
Glacier blue metallic
760
135
Coronado gold metallic
—
136
Kingsmire green metallic
—
137
Artesia beige/Mist gray
—
138
Castlewood brown/dark brown
—
139
Scotia blue/Mist blue/Light
blue
345 240 260
140
Lexington green/Mist green
—
141
Richelieu red/Wine red
240 260
142
Vernon green/Deep green
240
143
Dark orange
—
144
Woodside tan metallic/Brown
metallic
—
145
Light wheat
—
146
Cameo brown/Beige brown
—
147
Cypress green metallic/Light
green metallic
—
148
Seneca red metallic/Wine red
metallic
—
150
Green
—
151
Onyx Metallic/Brown
metallic/Black metallic
760 240
152
Light yellow
240
153
Red brown burgundy
—
154
Inferno red
—
155
Signal red
340 940
156
Signal Green/Racing green
—
159
Light Green
—
166
White
—
168
Blue metallic
—
169
Green metallic
—
170
Lorna gold metallic
—
171
Orange rally
—
172
Beige/Rose beige
760 240
173
Red
240 260 760
175
Redwood metallic
240 260 760
177
Graphite metallic
240 260 760 960
178
Green metallic/Silver green
metallic
240 260 760
182
Medium dark green
—
183
Blue grey metallic
360 340
184
Silver grey metallic
360 340 345 480
186
Dark red metallic
360 340
187
Anthracite metallic
360 340
189
White / Polar White
240 260 740 760 960 850 C70 S80 S60 S70 V70 XC70 XC90 S/V90
190
Yellow
240 760
192
Light blue
240 260
194
Blue metallic
240
195
Blue gray
340 345
196
Beige
—
197
Black metallic
760
198
Wine red
340 345
199
White
340 345 360 480
200
Blue metallic
240 260 760
201
Beige/Dark beige
240 260
202
Dark brown
240 260
204
Dark blue
240 260
205
Brown metallic
760 240 260
206
Dark beige
340
207
Dark blue
340
208
Dark green / Onyx metallic
360 340 345
209
Light beige metallic
360 340
210
Blue metallic
—
211
Red/Deep red/Bordeaux red
240 260 760
212
Grey
240 260
213
Mid blue
240 260 760
214
Dark grey metallic
240 740 760 850 940 960
215
Blue
240 260 760
216
Beige
345
217
Red
345 360 340 480
218
Arctic blue metallic
360 345 480
219
Ocean blue metallic/Blue gray
metallic
360 340 480
220
Gold metallic
360 345
221
Red metallic
360 345 340
222
Dark green
—
226
Light green
340
227
Slate blue
340 360
228
Dark gray
340 360
229
Dark red
—
230
Dark blue
—
231
Bright red
340 360 480
232
Scarab/Petrol blue
340 360
233
Tico blue
—
234
Super white
480
235
Red
480
237
Indigo Blue
S40 V40
238
Wine red
S40 V40
239
White satin
S40 V40
240
Forest Green
S40 V40
241
Flame red
S40 V40
243
Dark Blue
S40 V40
245
Light Blue
—
246
Turquoise
—
247
Mauve
—
248
Panama Yellow
—
249
White
S40 V40
250
Red
S40 V40
302
Light green metallic
340 360
303
Pearl silver metallic
—
304
Graphite gray metallic
360 340 480
305
Black metallic
360 340 480
306
Smoke silver metallic
360 340 480
307
Light blue metallic
—
308
Beige metallic
340 360
309
Aubergine metallic
—
310
Beige Metallic
—
311
Lavender metallic
480
312
Peppermint metallic
340 360
313
Champagne gold metallic
340 360
314
Peacock green metallic
480
315
Hortensia metallic
—
316
Taupe brown mica
—
317
Piu blue metallic
—
318
Paris blue metallic
480
319
Steel gray metallic
440 460 S40 V40 480
320
Ocean Blue
—
321
Dark green metallic
480
322
Red / Burgundy pearl
metallic
S40 V40 480
323
Storm grey metallic
440/460ES from Jan 1996 480
324
Silver Dawn metallic
S40 V40
325
Pacific Blue metallic
S40 V40
326
Olive Green metallic
S40 V40 440/460ES
327
Violet metallic
S40 V40 440/460ES from Jan
1996
328
Blue Pearl
—
329
Pure Silver metallic
S40 V40
330
Brown Metallic
—
332
Black metallic
S40 V40
335
Bright Green metallic
—
336
Tropical Lime
—
338
Autumn Gold
—
339
Red Pearl
S40, V40
343
Atlantic Blue metallic
S40 V40
344
Linear Pearl
—
345
Sydney Bay Pearl
—
346
Black Sapphire metallic
S40 V40
347
Titanium Gery metallic
S40 V40
348
Bamboo Green metallic
S40 V40
350
Peacock green metallic + Smoke
silver metallic
480
351
Maya Gold metallic
S40 V40
352
Silver Green metallic
S40 V40
353
Cherry Red metallic
S40 V40
354
Virtual Blue metallic
S40 V40
357
Terra Grey Pearl
—
400
Beige metallic/Gold
metallic
240 740 760 960
401
Light brown
—
402
Blue green metallic
240 760
403
Silver green metallic
240 760
404
Light blue metallic
240 760
405
Silver metallic
S90 V90
406
Dark blue
240 740 760 960 850
407
Blue pearl
—
408
Red pearl
—
409
Wine red
240 740 760 960
410
Light blue metallic
240 760
411
Light taupe/Beige/Gold
metallic
850 960
412
Verdigris / Tropic Green
metallic
240 740 940 960 850 S70 S80 S90 V70 V90
414
Ruby red
960 850
415
Fjord blue
850
416
Light teal / Onyx Green
metallic
850 960
417
Pacific /Nautic / Dark blue
pearl
960 940 850 C70 S60 S70 S80 S90 V70 V90 XC70 XC90
418
Pearl red/Regent red
metallic
850 S90 V90
419
Pewster silver / Silver sand
metallic
850 S90 V90
420
Amethyst /Aubergine pearl
metallic
850
421
Emerald green metallic / Dark
Olive pearl
850 V70 S70 C70 S80 S90 V90
422
Turquoise pearl
850 V70 S70 C70
423
Autumn Gold Pearl metallic
850
424
Polar White Pearl Topcoat
—
425
Champagne metallic
850 C70
426
Mystic silver metallic
850 C30 C70 S40 S80 S60 S70 S90 V70 V90 XC70 XC90 V50 V60 XC60
427
Graphite gray metallic
850 C70 S60 S70 S80 S90 V70 V90
428
Coral Red metallic
850 S70 C70 S70 S80 S90 V70 V90
429
Black Pearl
—
430
Sandstone Pearl
—
431
Aqua blue metallic (Verdigris)
850 S70 S90 V70 V90
433
Blackberry metallic
S90 V90
434
Frost Green
—
435
Saffron metallic / pearl
V70 S70 C70
436
Cassis metallic
C70 S80
437
Sandstone metallic
V70 S70 C70
440
Limestone pearl
C70
441
Cosmic Blue Pearl
—
442
Java pearl
S80
442M
Java Metallic Matte Finish
C30
443
Moondust metallic
C70 S80 V70 S80 S70
444
Polarctic pearl
S80 S60 V70 XC70
445
Venetian Red pearl
V70 S60
446
Ash Gold pearl
C70 S80 S60 V70 XC70 XC90
447
Scarab Green pearl
C70 S80 S60 V70 XC70 XC90
449
Mistral Green metallic
S80 S60 V70 XC70 V50
450
Cosmos Blue metallic
S80 S60 V70
451
Maya Yellow pearl
C70 S60
452
Black Sapphire metallic
C30 C70 S40 S80 S60 V70 XC70 XC90 V50 V60 XC60
452M
Black Sapphire Metallic Matte Finish
C30
453
White Pearl
—
454
Ruby Red pearl
C70 S80 S60 V70 XC70 XC90 V50
455
Titanium Grey Metallic
C30 C70 S40 S80 S60 V70 V50
455M
Titanium Grey Metallic Matte Finish
C30
456
Crystal Green pearl
XC90
457
Flash Green
—
458
Ocean Blue
V70 XC Ocean Race Limited Edition
459
Dawn Blue Pearl
V50
461
Sky Blue
C70
462
Flint Grey metallic
V50
463
Blackcurrant Pearl
V50
463M
Blackberry Metallic Matte Finish
C30
464
Safari Green Pearl
—
465
Cedar Green
—
466
Barents Blue
C30 S40 V50 XC60
467
Magic Blue Metallic
S80 V70 XC90 XC60 V60
468
Lava Sand
—
469
Lunar Gold
—
470
Sonic Blue
—
471
Willow Green
—
472
Oyster Grey Metallic
S80 V70 XC70
474
Celestial Blue Metallic
C70
477
Electric Silver Metallic
C30 C70 S40 S60 S80 V50 V60 V70 XC60 XC90 V90(new) V40(new)
481
Cosmic White
C30 S40 S60 V50 V60 XC60
484
Seashell Metallic
S60 V60 V70 XC60 XC70
487
Ember Black Metallic
C70 S60 S80 V60 XC90
490
Chameleon Blue Metallic
C30 S40 V50 V60
492
Savile Grey Metallic
S60 S80 V60 V70 XC60 XC90 V90(new) V60 V40(new)
493
Caper Green Metallic
S80 V70 XC70
494
Terra Bronze Metallic
XC60
494M
Terra Bronze Matte Finish
C30
495
Lime Grass Green Metallic
C30
498
Caspian Blue Metallic
C30 C70 S60 S80 V60 V70 XC70 XC90
526
Light yellow/Kinaro
—
527
Green
—
528
Light blue
—
589
Wine Redl
—
600
White
760
601
Classic / Signal Red
240 740 760 960 850 V70 S70 C70 S60
602
Wine red
240 760
603
Ivory
240 760
604
Midnight blue
240 740 760 940 960 850 S60 S70 S80 S90 V70 V90
605
Atlantic blue
240 740 760 940
606
Classic green
850
607
Cream Yellow
850 T5-R
608
Dark Lilac
—
609
Bright Red
850
612
Passion Red
C30 C70 S40 S60 V70 V50 V60 V70 XC60 XC90 V90(new) V40(new)
613
Deep Blue
V50
614
Ice White
C30 C70 S40 S60 S80 V50 V60 V70 XC60 XC70 XC90 V90(new) V40(new)
616
Dark Lilac
V50
618
Hello Yellow
C30
619
Rebel Blue
S60
621
Amazon Blue
V40(new)
700
Twilight Bronze Metallic
C70 XC70 XC90 XC60 V90(new) V60
701
Orange Flame
C30 S40 V50
702
Flamenco Red Metallic
C30 C70 S60 V50 V60 XC70 XC90 V40(new)
703
Electrum Gold Metallic
S60 V60
704
Vibrant Copper Metallic
S60 V60
705
Biarritz Blue Metallic
S80 V70
706
Ocean Blue II Metallic
V60 V70 XC60 XC70
707
Crystal White Pearl
XC60 XC90 V90(new) V60 V40(new)
711
Bright Silver Metallic
S60 XC60 XC90 V90(new) V60 V40(new)
714
Osmium Grey Metallic
XC60 XC90 V60 V90(new) V40(new)
717
Onyx Black Metallic
S60 XC60 XC90 V60 V90(new) V40(new)
719
Luminous Sand Metallic
XC60 XC90 V40(new) V60 V90(new)
720
Bursting Blue Metallic
XC60 XC90 V40(new) V60 V90 (new)
721
Mussel Blue Metallic
XC60 V40(new) V60 V90(new)
712
Rich Java Metallic
XC60 V60
713
Power Blue Metallic
XC60
722
Maple Brown Metallic
XC60 XC90 V90(new)
723
Denim Blue Metallic
XC60 XC90 V40(new) V90(new)
930
—
850
724
Pine Grey Metallic
XC60 XC90 V90(new)
725
Fusion Red Metallic
XC60
930
Silver Metallic
850
931
Dark Silver Metallic
850
932
Anthracite
850
A List of Volvo Paint Colors and Their Codes