Let's Talk Gas Tank Removal
Gas Tank Removal & Leak Fix Tutorial
1. Disconnect the negative battery cable for safety. 2. Block the front wheels, jack up the rear, use some jack stands to hold up the rear. 3. Remove the floor board to open up the area to access the top of the fuel pump and sender.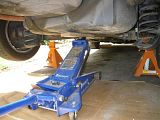 Gas Tank Removal Question + Leak photo
Bonus! 10 Interesting Volvo Facts
In Latin, the word Volvo means: I spin. Today however the nearest meaning is "I roll".
Volvo was founded in 1924. The two founders were Gustav Larsson and Assar Gabrielsson.
The ÖV 4 is the first Volvo car. The first car was sell-ready in 1927. The 2-Liter, 4-cilinder car got the nickname: Jakob.
Volvo's very first commercial vehicle was the Type-1 truck. The release year was 1928. In the same year, Volvo released the second car, the Volvo PV 651. Volvo manufactured a total of 1383 of both vehicles in the first year; of which automaker exported 27.
This trend saw a sharp rise in 1932 when Volvo released a good amount of 10,000 vehicles, both trucks and cars.
The company, however, started making a large-scale profit from the year 1935. The first luxurious car by Volvo was the PV36, which could carry six passengers at a time. The design of this iconic car paved the path for future Volvo cars to come. I came in the market with a price tag of 8,500 Swedish kronor.
Volvo touched a landmark in 1941, with the sale of its 50,000th vehicle; this is a unique achievement considering the time when WWII was in full swing.


Subscribe to the MVS Newsletter
The MVS Volvo Newsletter is a once-a-month email delivered to your email. It's simple to unsubscribe at any time if you change your mind.